Weekly Food is the experience of healthy and varied meals by delivery.
Weekly Food - Fresh box of meals prepared in Switzerland and ready to eat since 2021.
In the field of ready-to-eat food, Weekly Food is launching a new concept in the region. The director Joris Humair presents us its functioning.
Extract 100% region - Le Journal du Jura - May 2021
Although a newcomer to the food industry, the computer scientist has worked for several years around economic competitiveness. To ensure the demanding operation of Weekly Food, he will lead a small team of two people. A chef and a commis de cuisine, who will prepare artisanal menus using fresh and local products.
The 28 year old from Biel has taken over a professional kitchen in Saint-Imier. The tour of the place, although quick, is likely to impress the invited visitor.
After the cooling cell, which is capable of lowering the temperature of the food intensively - thus preserving the flavors and naturally extending the shelf life of the meals - the sealing machine will be the company's second key component.
Two trays are inserted at a time. They are covered with a protective film in 15 seconds, then ready to be put in the refrigerator.

Joris Humair
Eight large refrigerated cabinets will be used to keep them and the products fresh. The packaged food will be preserved for one week without the use of additives.
To promote the appearance of the dishes on the website www.weekly-food.ch, the company has also set up a photo studio.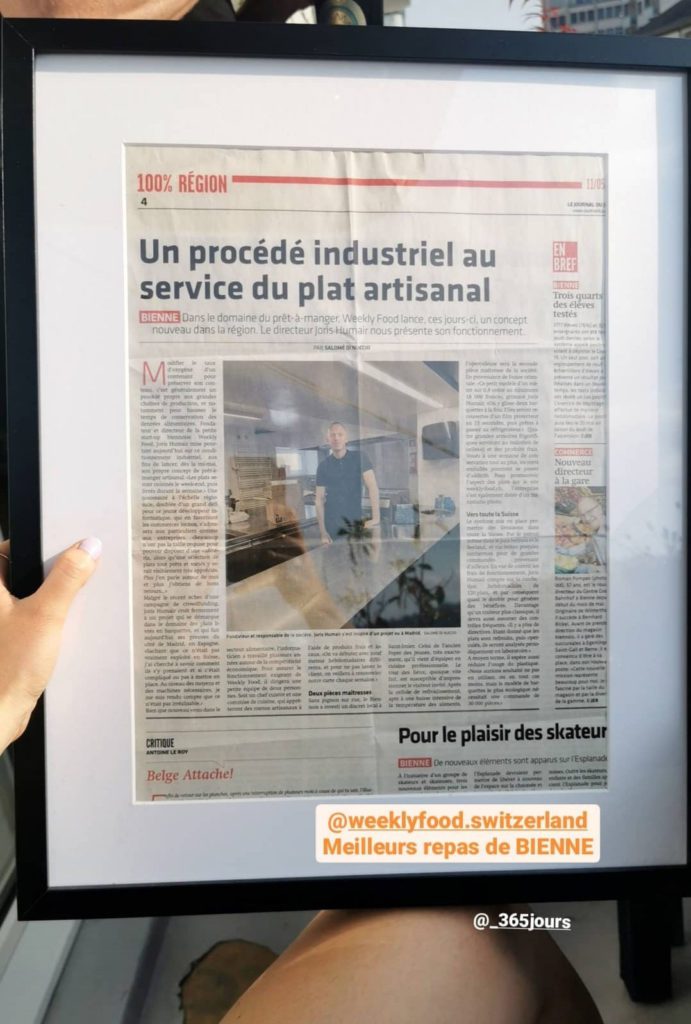 Weekly Food was created on the basis of a simple observation: the ready-to-eat offer of the supermarkets is practical in many situations, but very low in quality.
And yet, there's no reason why you can't combine tasty food - cooked just like at home - with ready-to-heat meals.
In the middle of the COVID crisis, in May 2021, the challenge was for us to take advantage of the apparent calm to create a new company, with few means, but many ambitions.
Through our menu, which is renewed every week, we wanted to offer diversity, introduce our customers to new recipes and, more importantly, make their daily lives easier and more fun.
We started simple, with an experienced chef, a professional kitchen and a packaging system for our meals.
One of our priorities from the beginning of Weekly Food was to be able to offer environmentally friendly containers.
It took some patience, but in just one year, we became a pioneer in Switzerland and can now offer our meals in 85% recyclable containers, still compatible with the microwave oven and guaranteeing the freshness of our meals for 7 days.
Since the beginning, we have had regular customers in every canton of Switzerland and have prepared several thousand meals with the same attention to detail and customer satisfaction.
Weekly Food now has a staff of ten, two chefs, specialized in nutrition, as well as several kitchen assistants and charming people in packaging and customer relations.
Above all, we want to preserve what distinguishes us from large-scale distribution; professionalism in the preparation of food and a "home-made" aspect, which is the very essence of what we like about our meals.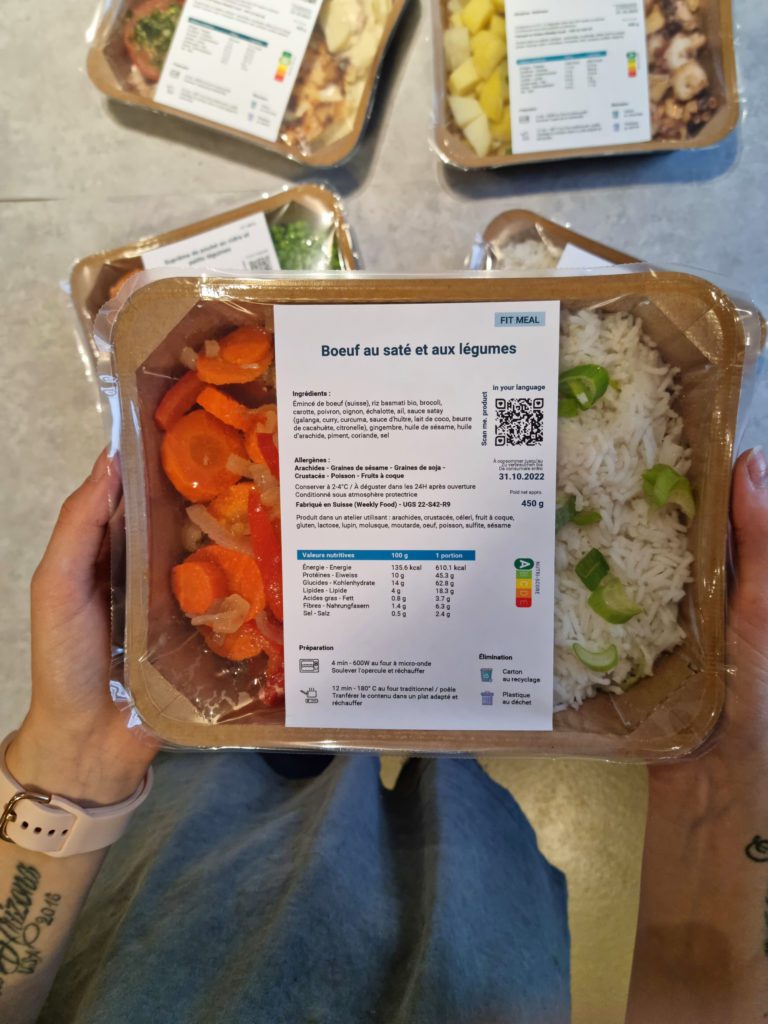 Our customers say it best!
Rating of 4.8/5 on Google
Ready for your first meals?
Have a question? Please contact us.
You can find more information about Weekly Food on the pages How it works or Help and contact
Alternatively, we are happy to advise you directly through the Chat Room below.